Thanks to an abundance of technologies and other people, we can easily pinpoint our exact locations. In this day and age, it's hard to get truly lost, though there are still some not-so WiFi-rich corners of the Earth where things like Google Maps aren't practical. Take, for example, rural Siberia.
When a girl planned an afternoon's walk across the Russian tundra, she had no idea just how far off course she would stray. As every passing hour decreased her chances of ever making it back home, she had to fight as hard as she could for survival…
Though she was 15 years old, Svetlana Evai lived her entire life in the Gydan Peninsula, a frigid place in northern Siberia. Svetlana dreamed of a life outside of the continuous routine with her family.

Like many others, she and her family herded reindeer to make a living. Though not the most exciting profession, shepherding instilled Svetlana with a deep confidence when it came to navigating Siberia's rough terrain.
Shutterstock
While she was stuck at home, Svetlana wished she were with her brother. He spent the summer at a different camp some distance away, presumably living it up and having all the fun Svetlana wasn't allowed to have.
The Siberian Times
But of course, he wasn't that far away — just four miles. Svetlana figured she could make that journey in no time at all and that whatever her brother was up to had to be more exciting than sitting around with her family and some reindeer.
Flickr / wowbagger0420
So Svetlana set off to visit her brother. She was traveling alone and without any kind of navigation aids, but she wasn't worried. She knew the terrain like the back of her hand, so surely going a bit further wouldn't pose a problem.
Yamal Peninsula Travel
Several hours passed, and Svetlana started to panic. She should have made it to her brother by now, and yet she stood in the middle of the wilderness, with no people or buildings in sight. She began to feel dizzy.
Flickr / Lady Fiszi
Meanwhile, her family back home grew concerned. Svetlana had never gone out alone for such a long time. Her Uncle Ivan, knowing that time was precious, organized a search party of family members and neighbors. They had to find her.
But Ivan understood the vast scope of the Siberian region. They could surmise the rough direction in which Svetlana had headed, but that knowledge only went so far: she could've gotten lost and switched to any other heading.
Gydan Nature Reserve
And that was precisely what had happened. After a rough night out on the tundra, Svetlana couldn't make heads or tails of where she was. Before she could head back home, however, another issue pressed on her mind: survival.
Svetlana felt certain help was on the way, but realized it could be a while until anyone arrived. With a bit of luck, she located some cloudberries. They were half-frozen and unripe, but they were food.
Flickr / Eero Sarkkinen
As more time passed, Svetlana kept moving. She continuously looked over her shoulder, for she knew dangerous beasts lived out on the tundra. Arctic wolves would usually go after stray reindeer, but they would gladly accept a lost girl as their meal.
Flickr / Safi Kok
Night fell again and again. Although daytime temperatures could sometimes reach 80 degrees Fahrenheit, the night air dropped far below freezing. Svetlana shivered herself to sleep as she fought to stay alive.
Flickr / hpaich
Svetlana grew so weak that she could no longer walk. Nevertheless, the will to survive kept her going. Praying that some help would arrive soon, she began to crawl on her hands and knees. She didn't have much time left.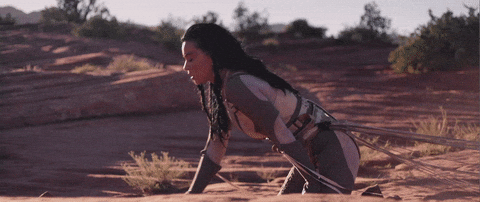 Her Uncle Ivan continued the search, but there wasn't any trace of Svetlana, who went missing over two weeks before. He had spotted some brown bears, though. Could a bear have hunted her down and dragged her off to its den?
Flickr / John Solaro
Dismayed, Ivan walked around an area just seven miles from their home. Then, without warning, he spotted a figure on the horizon. It ambled toward him. Without thinking, he ran towards the shape and hoped for a miracle.
Flickr / Brendan Ó Sé
It was Svetlana! Though her body was battered and bruised and she was emotionally spent, somehow, she stayed alive. Ivan resisted the urge to scold her for acting so foolishly and arranged for a physician to examine his niece.
The Siberian Times
Living in such a remote part of the Gydan Peninsula, Svetlana did not have access to a full medical staff in the immediate vicinity of her home. A helicopter arrived to carry her to a hospital. Once aboard, she shared her incredible story.
The Mirror
Nobody could quite believe how Svetlana scraped together the bare essentials out in the wilderness. Though still just a girl, she managed to evade the tundra's many hazards while knowing how to take advantage of its biggest asset: plenty of fresh water.
The Siberian Times
Amazingly, Svetlana seemed pretty healthy. Though she had no shelter and barely any food over the course of two weeks, her vitals were pretty steady. Doctors found no sign that her life was in danger.
But just as a precaution, Svetlana's family kept her in the hospital in Tazovsky to fully recuperate. They gave thanks that she survived such an ordeal and hoped that after her harrowing adventure, Svetlana wouldn't mind spending time at home again.